Vintage Smith-Corona Typewriters-Ribbon-Parts-Memorabilia
Finding an antique or vintage Smith-Corona typewriter is exciting and there are many fantastic deals to be had with a little searching in the right places. These machines can be found in both the manual or electric versions, with many of the powered models in almost new condition! Finding Smith Corona ribbon & cartridges as well as other parts for these machines is easy too!
Some Classic Vintage Smith Corona Typewriters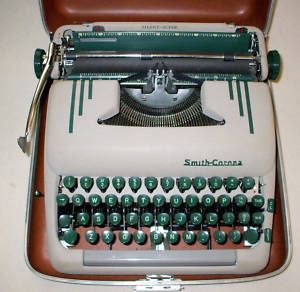 Whether you are a hard core collector seeking an Antique Folding model, vintage Clipper from 1948, a Skyriter or Sterling from the 50's, or just want a newer electric machine such as a 1979 Coronomatic 2500, Spell-Right Mark VII or a Smith Corona 480 SL Electric Typewriter for home use, We'll help you find what you need at a fantastic price!
People all across the nation are finding these machines in their parents and grandparents attics and basements everyday and offering them for sale on eBay. This is great news for people like us who love these old typewriters! Since most of the Smith-Corona typewriters came with a case, they were stored away in that case and remained in great condition over the decades!
Have you been looking for a Silent Super models 1956 or 57? Maybe a vintage colored model SC typewriter in red, aqua, pink or green? Many collectors and hobbyists are certainly interested in the old vintage manuals and there are certainly plenty to choose from!
Just a Few of the Many Antique Smith Corona Typewriters Manufactured
Smith Corona was a leader in electric typewriters. In fact, the Smith Corona Portable Electric 5TE was the first portable electric typewriter manufactured for the public. Was it a coincidence that Sputnik was launched that same year this machine was introduced in 1957? The 1963 SCM Smith Corona Poweriter had a battery. The Electra 120 portable had it's electric type-bar. By 1985 we had the daisy-wheel in the Smith Corona SD300 typewriter with a small one line, 16 character, LCD display! (Read the History of Smith-Corona Typewriters)
As the computer age slowly crept into our lives and many typewriter companies went out of business, Smith Corona hung in there, creating some typewriters that were practically computers!
Smith Corona Made Some Impressive Electric Machines
Models like the SL-500 had features such as correction systems with memory and word erasers. The returns became automated. Centering, underscore, decimal tab printing systems and triple pitch with a demo mode all came into play. These later machines actually had more features than most computers at the time!
There's nothing like typing on a vintage typewriter whether for personal or business use. Finding a working Smith Corona is easy these days and you won't have to spend a bundle. Take a peek right now at the fantastic selection and find the Smith Corona that's right for you without emptying your wallet!