Vintage Olivetti Typewriters-Ribbon-Parts-Memorabilia
Whether you are a collector or just want a nice machine for your personal use, an Olivetti typewriter can be a great choice! Most of these machines fall into the vintage category rather than antique, as the company became very popular later on in this industry. It's easy to find a great vintage Olivetti model at a great price in excellent working condition.
Olivetti Valentine
Olivetti made a quality typewriter, but it was the unique and sleek design combined with clever advertisement of the brand that brought this typewriter company to new heights. While the Lettera models were very popular, reliable vintage machines, it was the Olivetti Valentine that caused quite a stir with it's design and bold bright red color. The red Valentine machine is one of the most sought after typewriter collectibles today even though it never came out until 1969!
Olivetti Lettera Typewriter
The Lettera models were quite popular in the 1950s and many were produced. These beautifully styled machines can still be found and purchased at very reasonable prices. Very popular were the Lettera model 22, 25, 35 and many other models from this line, and there are still plenty of these available for purchase today.
Some other models of interest that can still be found are the Brazilian made Olivetti Linea 98 and the Escort 55 made for the now defunct department store, Montgomery Ward. The Lexikon 80 is nice, a little harder to find but still around, and the Lexicon 80E, Olivetti's first electric typewriter.
Every week people are finding these machines in their parents and grandparents attics. Since most of them came with a case, most were packed away and stored that way and the machines are usually in very good condition.
Vintage Olivetti Colored Typewriters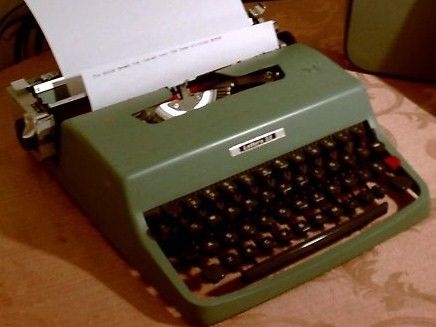 They end up at yard sales, thrift stores and eBay. This is great news for us! Never before has it been so easy or cheap to own these beautiful typewriters! Models like the Olivetti Studio 45 and 46 with cursive font, or as mentioned earlier, the many Lettera and Linea models. Even the famous Valentine can be found with a little effort.
Olivetti is a great typewriter for the color conscious. This company stayed away from traditional black as much as possible, with colorful models in yellow, red, blue, green and many appealing shades of white and brown. Take a peek right now at the many Olivetti typewriters available for purchase at huge savings!