Hermes Typewriters
Working with a vintage Hermes typewriter from the 50s or 60's is a feeling you won't soon forget. These Swiss made machines are smooth and reliable, even decades later. Collecting typewriters whether for fun or profit has become quite popular over the past few years and Hermes is a brand you'll want to check out for sure!
(Learn more about The History of Hermes typewriters on our content page!)
Hermes Model 2000
Although the company has been around for a long time, they didn't come to the forefront of the typewriter industry until the early 1950s with the model 2,000, a remarkably smooth and reliable machine which was considered by many to be the best typewriter in the world after WWII. The model 2,000 can still be found today at very reasonable prices.
The Featherweight was very popular in the 1930s with it's incredible compact size of less than 3 inches thick and less than 10lbs! The Baby Hermes, or Jubilee, was introduced with much success, especially for "on the go" writers. It was successfully sold in several countries under different names. In Italy, the Ala. Poland was another buyer and it was known as the M.K. Mala. In the UK, there were several names it was branded under such as the Empire Baby, Empire Junior and the Baby De Luxe. However, it truly was the model 2,000 that made Hermes a household name.
Hermes Baby (Jubilee) Typewriters
When the Baby Rocket came out in the 60's it was a huge success. You'll find many other brands that look very similar to it because Hermes (Paillard) licensed that design to other typewriter manufacturers. The Hermes Rocket models can still be found in near perfect working condition and make a great typewriter for home use.
Hermes Famous Model 3000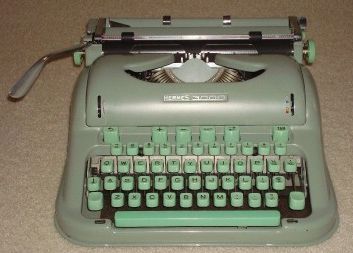 Whether you are a hard core collector or just looking for a nice looking, working typewriter for your den, these old Hermes machines are a great choice! The late 1960's 3,000 models in the famous seafoam green color were sold for over $100 back in the day, very expensive for a typewriter. That is like paying $700 or $800 today. There was a reason for the high price tag and that was because they were built better than any other machine at the time and easy to operate. Today those same machines can be found functioning just as well as they did back then, but for much less money!
Various Hermes Typewriter Models
Most typewriter enthusiasts would agree, you can't go wrong with a Hermes typewriter from the mid 50s on up if you are looking for a vintage machine that you can actually use on a regular basis. Many end up liking them better than their computer keypads!